Oregano feta dip. Sounds a bit interesting, right? Well, it is. It gives a unique combination of flavors to the spread, making it a hit among the crowd.
Once upon I time, I decided to try something different. Ha! Who am I kidding, Bites & Platters was created because I have a love for all things slightly different.  So, oregano is a herb that unless I'm making pasta sauce, I just don't use that often.
I felt bad for it always sitting up there in my shelve, so back in 2017 I decided to venture away from the spaghetti sauce and use it in a dip. I combined the oregano along with sour cream, garlic, feta cheese, green onions, lemon juice, and parsley and surprised myself at how tasty it was!
The best things to pair this feta dip is obviously crackers or crostinis. After that, you could top it off with something else. For the particular party platter shown I had turkey, salami, cheeses, crackers, pretzels, cherries, strawberries, pistachios, and kalamata olives.
Tip: when serving a dip, jam, or spread, use a pretty decorative cup and a small spoon. I have a few unique spoons that I've picked up at garage sales and antique stores over the years. It's little touches like that that will set your party platter out and give it more character. (similarly, styled spoon found here
.)
How to make the oregano feta dip: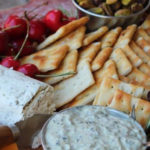 Ingredients
1 1/4 cups feta cheese crumbles

1 1/2 cups sour cream

3 green onions, chopped

1 teaspoon of garlic powder

1/4 cup flat-leaf parsley, chopped

1 tablespoon oregano leaf

Juice from 1/2 a lemon

Salt and pepper, to taste
Instructions
Combine all ingredients in a medium-sized bowl. Cover and place in the refrigerator until ready to serve!
Do you ever step outside of the box with party dips? Do you have a surprising flavor combination that everyone loves? For another unique dip/spread, check out this recipe for red onion jam!
Post contains an affiliate link.