What I'm going to share with you is going to change the way you think about brunch forever. It's a play on the all too common bacon and eggs that we all love to eat. In this version the eggs are "deviled" and the bacon is made into "jam". Mesh them all together and it's a spin on the flavors that make us all do a happy dance.
So, where can you serve these non-breakfast breakfast flavored appetizers? The sky's the limit. Brunch will never be the same. What about special occasion dinners? Or part of your snack plan for game days.
The one thing I will let you know before you begin the journey of creating this recipe is that you'll want to first check out our recipe for bacon jam. It can be made ahead of time and then it's incorporated into these little morsels. So, plan ahead to make these bites.
After you've made the bacon jam you won't need very many more ingredients.  Eggs, sour cream, mustard, pickles… And green onions for garnish.
Bacon Jam Deviled Eggs: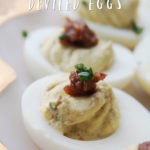 Ingredients
12 hard-boiled eggs

1/2 cup sour cream

1 teaspoon mustard

1 tablespoon finely chopped dill pickle

1 tablespoon bacon jam + additional for topping

chopped chives, for garnish
Instructions
Slice the hardboiled eggs in half. Scoop out the yolks and place them into a mixing bowl.
Add the sour cream, mustard, pickles, and bacon jam to the yolks. Using a mixer or potato masher, combine all ingredients until smooth.
Pipe the mixture into the egg whites, then top with additional bacon jam and chives.
Cover and refrigerate for a couple of hours. Consume within one day.
Have you ever created variations to the traditional deviled egg? Stay tuned, because in the near future we'll be sharing another tasty creation: avocado deviled eggs.