Sometimes, the simplest of appetizers turn out the tastiest like these prosciutto-wrapped cantaloupe bites.
I love quick and easy appetizers. I always like to keep a few ingredients on hand that can easily be whipped up and presented to last-minute guests. It could be some cheese and crackers with stuffed olives or some fruit wrapped with prosciutto. You'll generally find all of these things in my refridgerator and pantry. This cantaloupe wrapped prosciutto bites are the perfect bite to serve, and takes literally minutes to make!
Since it's such a simple appetizer I like to serve them on a unique serving dish. The one in the photos is a vintage platter from Italy that I happened to find at a second-hand store for only a couple of dollars! It's one of my favorites.
All you need for these bites is fresh cantaloupe, prosciutto, and a balsamic glaze. I came up with this variation from one of the recipes from my favorite little black book: The Ultimate Appetizer Ideabook
.
I also always like to keep something other than just toothpicks on hand. These bamboo knots
just dress up the appetizer a little more.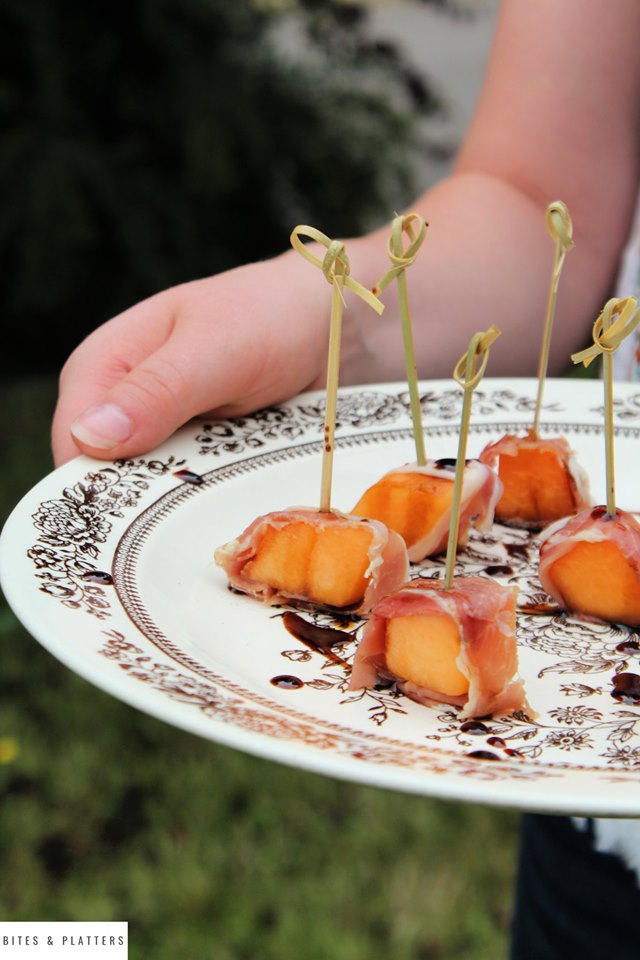 How to make Prosciutto Wrapped Cantaloupe Bites
Ingredients
1/2 Ripe Cantaloupe

6 slices of Prosciutto

Balsamic glaze
Instructions
Scoop out the seeds from the cantaloupe, then slice it into four wedges. Carefully remove the rind from the wedges, then chop each wedge into approximately 1-inch cubes.
Then, cut the prosciutto slices into 1-inch width pieces and carefully wrap one piece around each cantaloupe cube until covered. Repeat with the remaining prosciutto until all of the cantaloupe pieces are covered.
Using a toothpick or bamboo skewer, secure the prosciutto and meat together by placing in the middle of the melon, with the 'seam' side of the proscuitto down.
Next, drizzle balsamic glaze over them and serve immediately.
These can also be made up to two hours ahead of time and placed in the refrigerator prior to adding the balsamic glaze.
Do you have any quick go-to appetizer ideas for when you have last-minute guests? Comment below and share them with us!